| Item ID | Starting Bid | Bids | Current Bid |
| --- | --- | --- | --- |
| 63330 | $40.00 | 5 | $60.00 |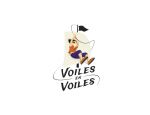 Une première mondiale, le parc thématique familial Voiles en Voiles offre des activités physiques en plein-air immergeant petits et grands dans le monde des bateaux pirates et des bateaux royaux du 18e siècle. Montez à bord des répliques grandeur nature d'un bateau royal et d'un bateau pirate, partez à l'abordage, accrochez-vous à l'un des 7 parcours aériens de 1 m à 10 m de haut, escaladez la paroi du bateau pirate ou amusez-vous dans notre parc de jeux gonflables. Voiles en Voiles offre des heures de plaisir pour les 3 à 333 ans avec des activités physiques et éducatives adaptées pour tous les âges.
Laissez-passer:
Accès aux jeux gonflables, Accès aux parcours aériens
Accès aux parcours à l'abordage, Accès au mur d'escalade
Un don de : Voiles En Voiles
Valeur : $116.00
A world premiere, the amusement park Voiles En Voiles offers outdoor activities immersing children and adults into the 18th century world of Pirates and Royal Ships. Embark on life-size replicas of these ships, hang onto one of the 7 aerial adventure courses ranging from 1 to 10 meters high, climb the wall of the Pirates' Ship or run through the inflatable playground. Voiles En Voiles offers hours of fun for adventurers from 3 to 333 years old with physical and educational activities suitable for all ages.
"Unlimited Park" pass:
Inflatable games, Aerial courses, All aboard courses, Climbing wall
Donated By: Voiles En Voiles
Value: $116.00