| Item ID | Starting Bid | Bids | Current Bid |
| --- | --- | --- | --- |
| 63167 | $100.00 | 4 | $126.00 |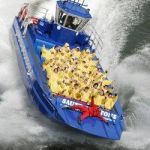 Saute-Moutons
La seule expédition aussi excitante à Montréal, une expérience éclaboussante des vagues, des sensations à essayer absolument. Ce voyage palpitant à travers les régions les plus turbulentes des rapides de Lachine vous laissera trempé et épaté. N'oubliez pas votre maillot et serviette de bain.....
Pour 2 Adultes et 2 enfants/adolescents, Mai au 17 juillet 2016- exclusivement
Un don de : Saute Moutons
Valeur : $248.00
Jet Boating the Rapids
Quite possibly the world's greatest city boat cruise tour! This spectacular 1 hour ride on the St-Lawrence River, is Montreal's most refreshing activity: wet, wild, wonderful, and should not be missed by anyone! This exhilarating ride through the wildest stretches of the Lachine Rapids will leave you wet and wanting more! Don't forget your bathing suit...
For 2 adults and 2 children / teenagers, for May - July 17, 2016 only
Donated by: Saute Moutons
Value: $248.00